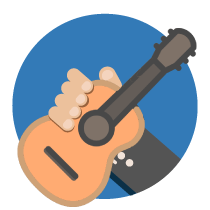 Learn Russian with music
Russian music videos with lyrics in Russian and English
Discover Russian music: Listening to Russian music will improve your language skills. Besides, it's a way to find new sounds and get familiar with part of the Russian culture.
How can I learn Russian by listening to music? Here you have a collection of songs where you'll find the lyrics in Russian and the English translation. Listen to a song while you read the lyrics and repeat the process a few times (not necessarily the same day). Afterwards, listen to the song trying to remember every word. This is a good exercise, both for listening comprehension and vocabulary building. Try playing the songs in the background while you do other things and, if you feel like it, sing along. Once you can sing a whole song, you'll be remembering many new words at once.

Learn Russian without spam
We want to help you learn Russian. Do you want to receive news from us? Subscribe to our newsletter. You will only receive one email a month with 100% news and 0% spam: